NG Shipyards heeft een voorontwerp gemaakt van een niet vrij varende pont voor voetgangers en fietsers.
De van aluminium gebouwde veerverbinding zal bestaan uit een pont met twee drijvende aanlandsteigers. Door een ketting geleding over de bodem van het vaarwater is de  pont route vast en is zeer eenvoudig te bedienen. Gebouwd conform de eisen en voorschriften van CE D keur (significante golfhoogte 50 cm) en geschikt voor het veilig overzetten van acht personen of vier personen met fiets. De pont is volledig zelf voorziend en vaart op duurzame energie uit zonnepanelen.
Er is een grote opslag en reserve vermogen beschikbaar door het gebruik van een grote accubank. Intelligente aansturing en veilige schakeling vindt plaats met behulp van programmeerbare modules. Waar het vaarwater het toelaat kan de pont onbemand varen door gebruik van GSM modules kan de pont over grote afstand bestuurd worden.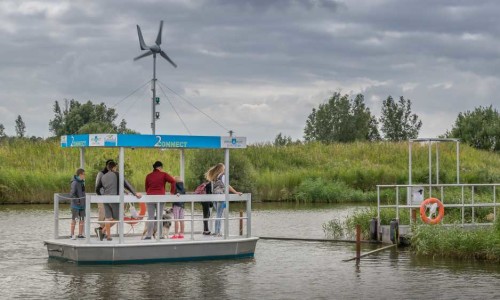 NEXT GENERATION
WORKBOATS
NG Shipyards kan met haar eigen afdeling ontwikkeling en engineering snel inspelen op speciale wensen van haar klanten. Zo is er bij voorbeeld het kleine werkschip "Sterke Jerke ", ontwikkeld voor gebruik in en nabij havens of waterwerken. Zij is door haar catamaran ontwerp bijzonder koersvast en zeer stabiel. Los varend kan ze een goede snelheid ontwikkelen en als sleep of duw schip is ze opmerkelijk dirigerend. "Sterke Jerke"  is zeer solide en met de zelflozende kuip en luchtdichte drijvers nagenoeg onzinkbaar.
Dit doordachte ontwerp is als gevolg van bijzonder efficiënt materiaal verbruik en directe techniek betrouwbaar en gunstig in prijs.
"Sterke Jerke"  kan aangepast worden aan diverse gebruiksmogelijkheden.
Zo zijn er mogelijkheden als bv rondvaart en dagrecreatie, partyboot met barbecue, visboot, werkponton, brandbestrijding, search and resque of als vrij varende veerpont.
NEXT GENERATION
MAKE OVER
NG Shipyards is begonnen aan een make over voor de tjalk "Neerlandia".
Het schip uit 1909 is er slecht aan toe en de restauratie omvat bijna alle facetten.
Om te beginnen wordt het vlak (gedeeltelijk) vervangen.